Venus into Virgo and the coming Solar Eclipse
Oct 13, 2023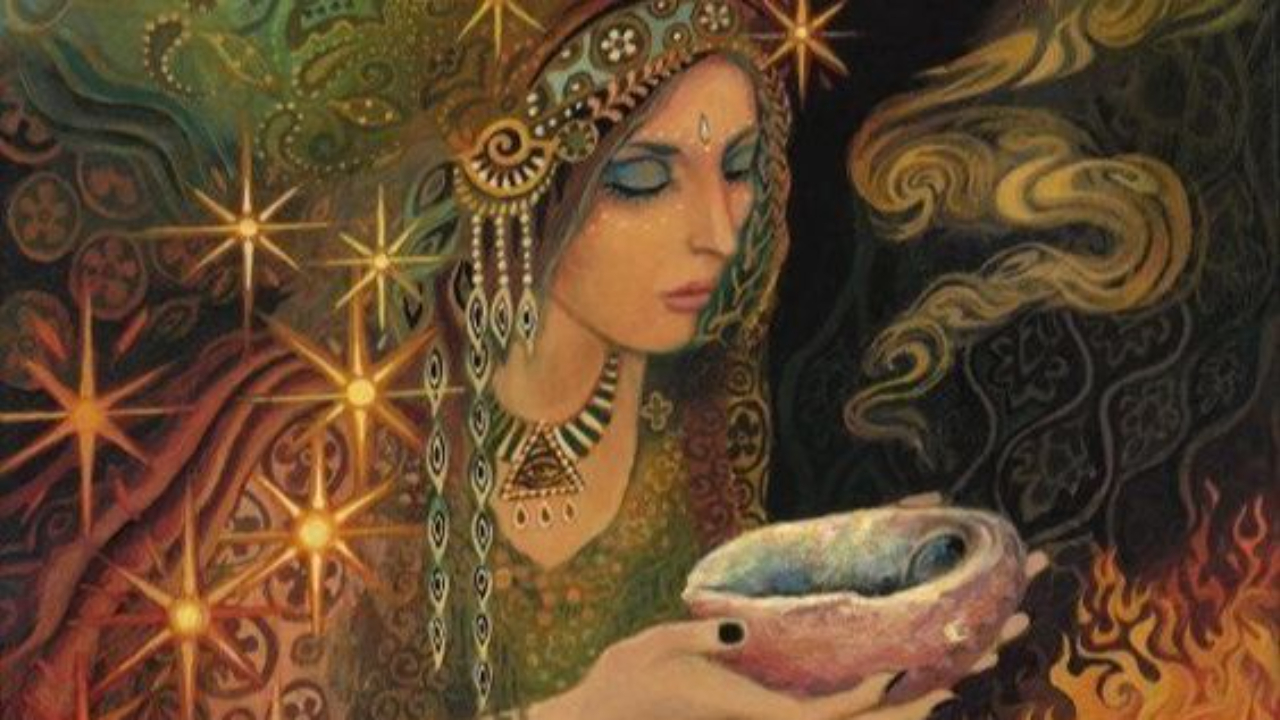 Blessings on this New Venus Portal at 01˚ Virgo exact on 10/10 at 7:45 am Pacific time.

As Venus, our evolutionary feminine nature, and the Moon, our conditioned feminine nature come together in the east at twilight, we are invited to rise early to greet them or light candles if visibility is not possible.

Venus Portals are our monthly time to drop in and feel what's moving through in our deeper heart. Syncing with Venus strengthens our ability to receive.

The New Venus Portal invites us to stay in our center, loving ourselves as we open to the greater truth beneath the emotions and stories that are arising.

What needs to be moved and released to be in greater integrity with the truth of who we are?

I don't hold that there is anything wrong with our experience reflected by the lunar feminine that shows us our conditioning and history. I see the New Venus Portals as a time of truth and reconciliation in our being so we can perceive and shed what is not us to become more of who we truly are. It is a time of stillness and centering.

Because Venus and the Moon are coming together so early in the morning they will appear very close together in the predawn sky tomorrow. Getting up early to receive them sets the tone for the next month and aligns us with the frequency of the Solar Feminine.

Venus just shifted into Virgo on October 8th after 4 months in Leo, where a new cycle was seeded. Venus in Virgo gives us the blessing of discernment and the art of perfecting (the anecdote to perfectionism.) Venus moves through each sign in about 4 weeks, so this has been an extra long and deliberate orientation to the wisdom of Venus in Leo.

Venus and the Sun met in Leo planting a seed that will sprout and grow and fruit and fall and compost and sprout again within the 19 months of this cycle.

In Leo, the codes of light within water call us to heal the wounds inflicted upon us as children through love, to remember our innocence, to live in transparency, to radiate who we are without artifice or pretense, to cultivate our unique gifts.

The energetics of Venus in the 5th sign of fixed fire of Leo will shift into the background yet continue to reverberate for the rest of this Leo cycle.

This saturation of Venus in Leo energy is an orientation to the themes of our next heroine's journey - developing our heart centered leadership as we claim our sovereignty, open to our creative expression and generate prosperity (of all kinds.)

When we consciously sync with Venus we attune to both the subtle and more obvious energetic archetypes on our journey. It's wise to reflect and write down the themes that arose in your values, relationships and finances since June 5th. Recording the events and shifts that occur on our journey is key to seeing our process of transformation. Sharing our stories with others brings new awareness.

Venus is particularly influential right now. She is in her bold Morning Star Phase and we are moving towards the first of two eclipses in her signs of Libra and Taurus. The Sun is in Libra and has lots of company.

The first Solar Eclipse on the New Moon in Libra October 14th is a time to release patterns of compliance, over giving, valuing self before other, nice girl survival strategies and and embrace our sense of graciousness.

Eclipses are windows of sudden and impactful change where we can get realigned to our destiny. This first eclipse has a pressurized "do or die '' quality to it. When we include the heart in our discernment, we make better choices.

The sign of Venus in the Sky shows us the kinds of blessings and challenges that we will encounter during that stretch of the journey. These may show up as people or archetypes or give us insight into yourself, if that sign is part of our Venus design.

After 4 months of Venus embodying the qualities of fiery Leo - passionate, dramatic, willingness to be at center, generous, expressive, there is a contraction as she moves into Virgo. The contraction comes from the shift from a spontaneous creative expression to the awareness of refinement - it could be better.

In Leo, a girl climbs up on a stage and sings her heart out for the pure joy of it. In Virgo, an awareness dawns that our song could be improved with work on our technique. That can feel like a splash of cold water to our Leo fun, but it's an opportunity to hone our skill and bring our expression to the next level.

The night before, Venus opposes Saturn in Pisces, still retrograde. Saturn is a mentor who teaches through contraction, through boundaries and limits, which assists us to be more grounded and reconcile our dreams with our current reality. Yet, Saturn is in the sign of Pisces, the Dreamer, the same sign where Venus embodies a sublime and unconditional love.

This combo feels like a reality check for our vision that has been forming since August 13th when this cycle began. Venus as a reflection of our feminine magic will be at her greatest distance from the Sun (Creator) at the end of October. Our young bold heroine is in preparation to leave home on her journey - the inspiration is getting real.

Questions for this turning:
* How strong is my devotion to my sacred mission?
* What do I need to do daily to nurture my purpose?
* Do I need to cultivate discipline to tend to the details to bring this vision into reality? Am I serious about my deepest and highest dreams?
* Do I make space for the timeless, my imagination, my heart's longings?
* Where do I need to clear and organize my life to prepare for this new creation?

This opposition can play out as criticism that threatens our self worth. Is it coming from another or inside of us? Is there truth to the criticism or is it a ghost from our past?

Rooting in kindness is essential to receive the benefits of Virgo, who wants to show us the beauty in the ordinary and to bring our attention to the details as an act of caring. Correction with kindness.

Earthy Venus in Virgo holds the wisdom of ecosystems and brings her attention to the patterns of nature. She embodies naturalness. She studies the parts to understand the whole. She senses what has withered, become stagnant, toxic or overgrown in our lives. She detects and rejects the synthetic in social exchanges. She values health at every level of our being.

Her insight is key to the movement to create a regenerative culture. She will go the distance to help her allies and new systems flourish because she wants the dream of harmony to become real.

Venus met the royal star, Regulus, as she moved into Virgo, accentuating the bridge between the consciousness of Leo to Virgo - unbridled expression of self opening to refinement. After 2160 years in the fixed fire sign of Leo, Regulus moved into the mutable earth of Virgo in late 2011.

The star of the "King" was now in the sign of the "Woman Healer" (AKA witch - the good kind) and many predicted that this shift would amplify the honoring of the feminine principle as sacred. 6 months after Regulus shifted into Virgo, Venus eclipsed the Sun in the summer of 2012. This was the last time in our lives we would be able to witness this event.

I believe this activated the frequency of the Solar Feminine which is the golden path into the Age of Aquarius. I've dedicated the past 11 years to an exploration of how this energy connects to the Venus cycle and how it expresses in our unique feminine design and our ability to connect with the guidance of our golden hearts.

During that "end of world" time in 2012, so many felt a shift was imminent. Despite all of our beautiful dreaming with strong prayers for peace and openness to miracles to help us create a new paradigm, the pain and darkness of this world has amplified year by year. It seems we are not yet in the eye of the storm.

Many of us did not understand how deep the deceptions of this reality were, nor how the path of false light would confuse and enchant many who desired to heal and awaken spiritually. We did not anticipate the layers of lies built into this system nor how slowly the solutions for a new paradigm would emerge. We did not imagine the effects of the internet, social media and AI on our children, relationships and self esteem, our connection to nature and the real.

We did not yet see clearly the lay of the land and what we needed to confront within and without during this time of transition.

Yet, we have come so far and have cleared so many distortions. We are becoming more skilled at seeing through the propaganda and using both our intuition and critical thinking to discern truth.

The seed of light that I received that summer of 2012 has inspired me to keep calling in women to join me in this inquiry of discovering how syncing with Venus can accelerate our evolution at this critical time. I have connected with many awakening female visionaries, creators and entrepreneurs who value sovereignty and community, those who want to generate resources and find allies to build a different kind of world.

My heart continues to hold that seed of light imprinted with possibility and the knowing that love's intelligence will prevail. We will find a way through this suffering. We will connect with our inner guidance to know our purpose, stay on our path, find our allies and collaborators and create the world we are longing for - a life of joy, freedom, creativity and abundance.

If you are a female visionary or entrepreneur and feel called to journey with a group of kindred spirits in this Morning Star cycle, stay tuned for an invitation.

This eclipse is visible in the United States. If you live in the US and it will be in your area, please use your discernment as to whether it is right for you to watch the eclipse. That is an intense quality of light to receive. Now is not a time to do something because it is a trend.

Are you feeling the shift of Venus into Virgo as we move into eclipse season? I would love to hear any embodied insight you wish to share.

Bright blessings on the next month your journey,
Sasha
Artist unknown: please share if you do know!
Receive your free Venus Map gift and Venus Wisdom updates delivered to your email inbox.
🔒 We value your privacy and promise to never share or spam your email. (Updates are sent about twice per month)